AntiMalware Descripción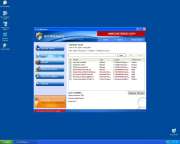 El AntiMalware es un falso programa de seguridad del grupo de hackers que desarrolla y comercializa los programas fraude contra software espía: Protection System y Active Security. Afirma que es capaz de detectar y eliminar parásitos del ordenador pero esto es falso.
Una vez instalado, muestra varias notificaciones engañosas y ejecuta exploraciones del sistema con falsos resultados. El AntiMalware o Anti Malware debe ser eliminado con seguridad utilizando una herramienta de eliminación de software espía antes de que dañe más al sistema infectado ....
Alias: Trojan.FakeAV [Symantec], Suspicious file [Panda], Artemis!7BB7211CD996 [McAfee+Artemis], Suspicious:W32/Riskware!Online [F-Secure], Sus/UnkPacker [Sophos], RogueAntiSpyware.WindowsAntivirusPro [PCTools], FraudTool.Win32.RogueSecurity (v) [Sunbelt], Mal/FakeAV-BP [Sophos], W32/FakeAV.C!genr [Norman], a variant of Win32/Kryptik.BFC [NOD32], Trojan:Win32/FakeCog [Microsoft], Trojan.PCK.Tdss.AA.636 [McAfee-GW-Edition], Artemis!6B53DC5751F6 [McAfee+Artemis], Packed.Win32.TDSS.aa [Kaspersky], Packed.Win32.Tdss [Ikarus].
Descargue el Escáner de Detección del SpyHunter
para Detectar AntiMalware
AntiMalwareInforme Técnico
Tip: Encienda su sonido
y
mire el vídeo en el modo de Pantalla Completo
para experimentar totalmente como AntiMalware infecta una computadora.
Is your PC Infected with the 'AntiMalware' Rogue AntiSpyware Program?
AntiMalware tiene típicamente los siguientes procesos en la memoria:
| # | Nombre | MD5 |
| --- | --- | --- |
| 1 | antimalware.exe | a15d8b2aba915c9d01ece6aed792a7e8 |
| 2 | AntiMalware.exe | |
| 3 | antimalware.exe | |
Related Posts
Importante Aviso de Renuncia de Responsabilidades
Enigmasoftware.com no está asociado, afiliado, patrocinado ni es propiedad de los creadores o distribuidores de malware mencionados en este artículo. No debe haber confusión, este artículo no trata, en modo alguno, de promover o aprobar malware. Nuestra intención es informar y educar a los usuarios de computadoras sobre como detectar y como eliminar malware de sus computadoras con ayuda del programa SpyHunter y/o manualmente,

En este artículo se proporciona tal cual y debe utilizarse únicamente con fines educativos. AI seguir las instrucciones de este artículo, usted acepta este descargo de responsabilidades. No garantizamos que el seguir las instrucciones de este artículo le ayudará a eliminar por completo las amenazas de malware en su PC. El software espía cambia diariamente, por lo tanto, es difícil limpiar una máquina infectada completamente manualmente.